Hunter | Florida House Plan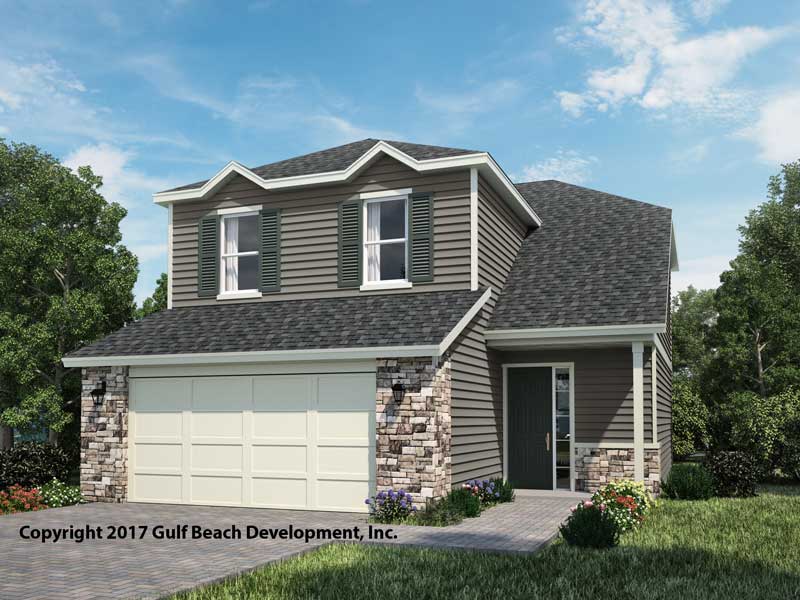 Hunter
Slab Grade Collection
3 Bedroom - 2.5Baths
Width . . . . . 32'-0"
Depth . . . . . 54'-6"
Total Build . . . 2,438 Sq Ft
Total Living . . . 1,830 Sq Ft
Click on images to enlarge
Two-Story House Plan on Slab
The Hunter House Plan can get you to stop hunting for more. This plan is one of our most efficient designs maximizing the use of materials and structural designs to save you money. The 1st floor offers all the normal needs for everyday living in a open concept layout. When designing such a usable pack design the challenge often to overcome is keeping the Hall bath away from dining, kitchen and great room which is was done well. In addition extra design benefits include the super open concept but yet still keep the kitchen and the foyer area separated just in case you don't care to share what you're making for diner with some nuisance door knocker. The two car enclosed garage is a short distance to the kitchen making carrying daily groceries home easy. The 2nd floor has a inviting feel due to the open foyer area and stairs. Since all three bedrooms are located on this second floor it's nice to have this open foyer as you can stand at the top of the stairs railing and overlook which kid is walking into your new home. The Master suite includes a super sized walk-in closet right off the bath. The master bath has a private toilet and shower separating his and hers vanity sink areas. The exterior upgraded Insulating Concrete Forms (ICF's) walls make this house plan super strong, if fact it's ten times stronger than a wood wall. But this new construction home plan offers more than just being strong it's also a super-efficient energy design upgrades that includes some of Gast Homes standard features like blower door directed air sealing at thermal boundary.
New Construction Features
Granite Countertops.
Solid Wood Cabinets.
9' interior ceiling heights options.
Impact rated exterior windows & door options.
Tile, with carpet bedrooms.
Closed Attic System options.
Advantech roof sheathing system.
Insulated concrete form (ICF) exterior wall options.
Florida Home Builder
State Certified General Contractor.
Thirty years experience.
Building Performance Institute, BPI Certified Inspection.
Blower Door, ASHRAE, Duct pan Quality control testing.
Site Development, Scattered site, Single Family, Condos and Townhomes.
Disclaimers: Copyright 2016 Gulf Beach Development, Inc. All rights reserved (Copyright Protected) CGC1521427  This home may reflect options not included in the base price. Pricing is subject to change based on jobiste locations.