Spring Ridge | Florida House Plan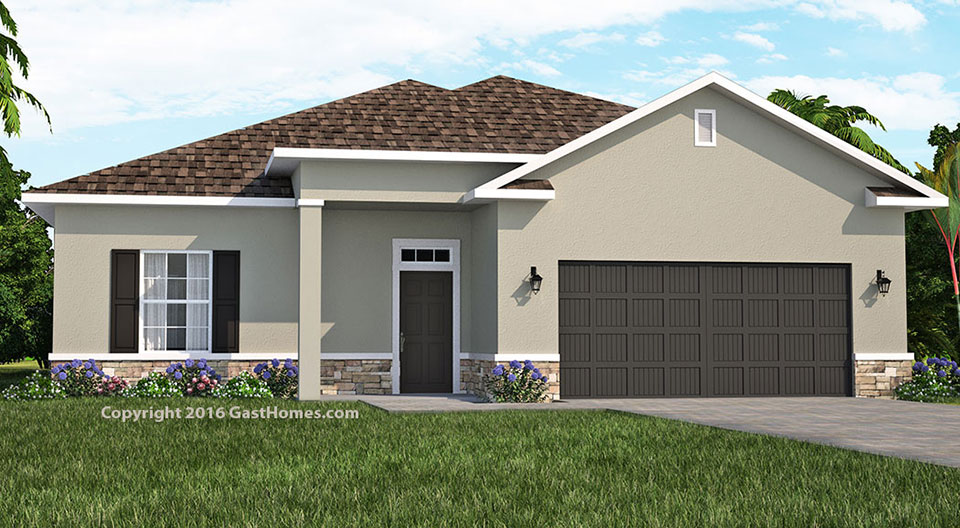 Spring Ridge
Slab Grade Collection
3 Bedroom - 2 Baths
Width . . . . . 44'-0"
Depth . . . . . 54'-0"
Total Build . . . 2,270 Sq Ft
Total Living . . . 1,508 Sq Ft
Click on images to enlarge
Ranch House Plan on Slab
Spring Ridge Florida New Construction is another great popular ranch floor plan! This Spring Ridge home offers three bedrooms and two full baths. As you walk into the front entrance you'll notice the high foyer ceiling and taller Great Room cathedral ceiling. This Florida new construction plan has a huge rear covered porch option to protect you from rain or sun. From the Kitchen you can see all of the main living area which makes it easy to be part of any social event you may have. Homeowners love the Laundry Room placement close to the bedrooms and ample folding counter top. Be sure to check out our other Florida new construction house plans. Each of our homes offers a large selection of options. In this plan you can choose between several combinations of exterior materials to create a exterior style that meets your needs. For the interior you can choose several great kitchen cabinet styles and granite counter tops. Furthermore, from the main great room area you can choose from a rear window configuration to patio slider options. Make sure to review our pricing section of each of our Florida new construction homes, which has a complete list of all the options for each plan. We are the only Florida new construction builder that offers features that could reduce your home ownership expense. Starting out with our 11' thick exterior Insulating Concrete Form exterior wall upgrade with solid concrete offer strength, energy efficient and low maintenance. Low maintenance cement board solid soffit allows little to no wind up lift in hurricanes and zero wood rot. Impact rated windows add additional safety features during 100+ Mph winds and reduces the chance of pressurizing the home and creating a roof uplift implosion. Be sure to reach out to one of our sales staff to discuss any of our Florida new construction homes.
New Construction Features
Granite Countertops.
Solid Wood Cabinets.
9' interior ceiling heights options.
Impact rated exterior windows & doors options.
Tile, with carpet bedrooms.
Closed Attic System options.
Advantech roof sheathing system.
Insulated concrete form (ICF) exterior wall options.
Florida Home Builder
State Certified General Contractor.
Thirty years experience.
Building Performance Institute, BPI Certified Inspection.
Blower Door, ASHRAE, Duct pan Quality control testing.
Site Development, Scattered site, Single Family, Condos and Townhomes.
Disclaimers: Copyright 2016 Gulf Beach Development, Inc. All rights reserved (Copyright Protected) CGC1521427  This home may reflect options not included in the base price. Pricing is subject to change based on jobiste locations.