Island Bay | Florida House Plan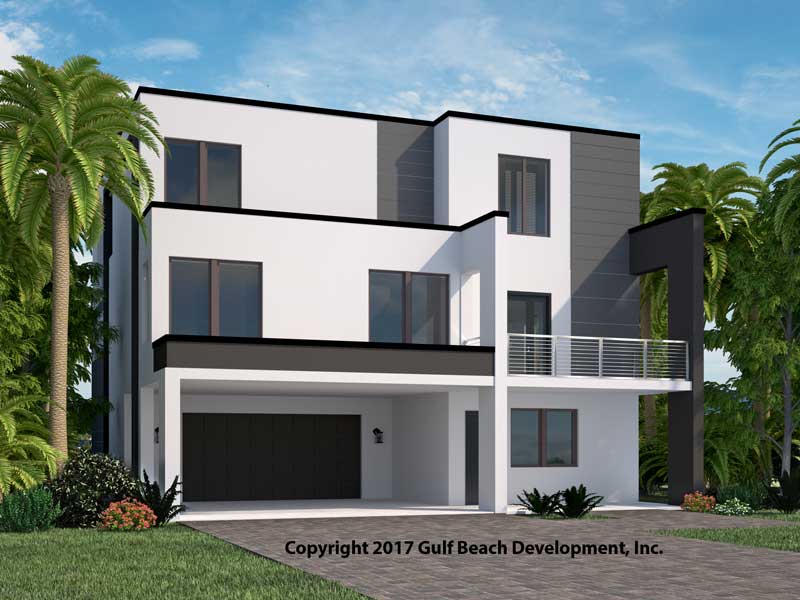 Island Bay
Coastal Collection
3 Bedroom - 2.5 Baths
Width . . . . . 42'-0"
Depth . . . . . 50'-0"
Total Build . . . 5,707 Sq Ft
Total Living . . . 2,984 Sq Ft
Click on images to enlarge
Coastal House Plan
The Island Bay house plan is one of our most popular coastal house plans. Designed for flood zoned waterfront building lots this plan is perfect. When your guest enters the first floor foyer and jump onto the option elevator they can move right to the top 3rd floor entertaining level. This 3rd floor at over twenty feet above the current grade offers 90% of the rear waterside facing area to be all glass sliders looking out to the Lanai and beyond. This 3rd floor includes one of two kitchens, dining area and large great room. Moving down to the 2nd floor just above the flood zone is the everyday living area which includes three bedrooms, mini kitchen and Family Room. The 1st floor allows for a two car covered parking with additional two car fully enclosed storage. The ground level also includes a great outdoor living space to get away from the sun while enjoying other outdoor activities. What makes this plan unique is its flat roof contemporary design. In addition to this many love the idea that the highest floor is for entertaining and great views and the lowest allowed flood safe level is the 2nd floor containing the sleeping bedrooms to safely ride out some of the Florida storms. If you're not already familiar how Gast Homes offers some of the best energy efficient and safer homes built in the Florida market make sure to contact your local certified Gast Homes real estate agent. Leveraging the buying power of our own buyers group, designed better planned house plans and utilizing our own custom management software we can offer brand new construction homes at prices similar to existing older housing stock. Make sure to consider our Insulated Concrete walls construction and many other Fortified building techniques and see why we stand above the rest.
New Construction Features
Granite Countertops.
Solid Wood Cabinets.
9' interior ceiling heights.
Impact rated exterior windows & doors.
Tile, with carpet bedrooms.
Closed Attic System options.
Advantech roof sheathing system.
Insulated concrete form (ICF) exterior wall options.
Florida Home Builder
State Certified General Contractor.
Thirty years experience.
Building Performance Institute, BPI Certified Inspection.
Blower Door, ASHRAE, Duct pan Quality control testing.
Site Development, Scattered site, Single Family, Condos and Townhomes.
Disclaimers: Copyright 2016 Gulf Beach Development, Inc. All rights reserved (Copyright Protected) CGC1521427  This home may reflect options not included in the base price. Pricing is subject to change based on jobiste locations.