Bahama Bay | Florida House Plan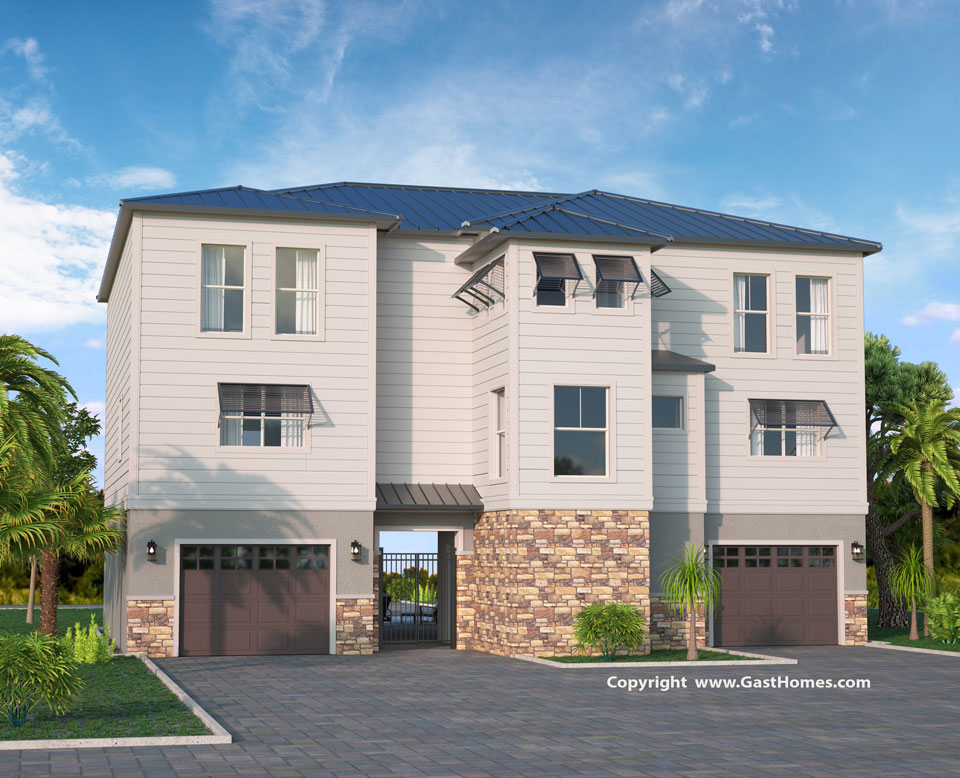 Bahama Bay
Coastal Collection
3 Bedroom - 2.5 Baths
Width . . . . . 52'-0"
Depth . . . . . 46'-0"
Total Build . . . 6,213 Sq Ft
Total Living . . . 3,300 Sq Ft
$47,368.96 to $53,158.50
Click on images to enlarge
Coastal House Plan
The Bahama Bay house plan offers some unique features. The design is based on a coastal waterfront building lot where the main 1st floor area is all garage or outdoor living. Furthermore this 1st floor house plan you'll get three inside car parking spaces and a large outdoor living space. As a result, outdoor living spaces could include options to have a swimming pool placed partially under the home. On the Second floor you will find the main living area and the master suite. Homeowners love the center of this house plan inviting two-story open family room. Because this home was designed to be placed on a waterfront lot you will notice window placements are all intentionally designed to enjoy the water views. The 3rd floor includes a large loft area that could be used for flexible living options or customize this home to include additional bedrooms. Other features worth noting include the 2nd & 3rd floor outside deck with optional outdoor cooking and a elevator option on all three floors. Finally this new construction home can be built to have exterior options to change the look to other popular designs like Mediterranean or craftsman styles. Bahama Bay Rear Elevated Coastal House Plan Like our House Plan, We are different! Like all Gast Homes house plan's reflect many of the exterior walls as ICF, also known as Insulated Concrete Form walls at 11″ thick. Although this makes the strongest and most energy efficient home possible you could choose other options that include different wall thickness. People love our many options to modify each house plan buy yet still get a truly semi-custom home at an affordable price. Furthermore, as a BPI QCI state energy home inspector you can rest assure your home is energy efficient.
New Construction Features
Granite Countertops.
Solid Wood Cabinets.
9' Interior ceiling heights.
Impact rated exterior windows & doors.
Tile, with carpet bedrooms.
Advantech roof sheathing system.
Insulated concrete form (ICF) exterior wall options.
Florida Home Builder
State Certified General Contractor.
Thirty years experience.
Building Performance Institute, BPI Certified Inspection.
Blower Door, ASHRAE, Duct pan Quality control testing.
Site Development, Scattered site, Single Family, Condos and Townhomes.
Price Estimator
If this home is not in your budget, feel free to change data fields below to test if adjustments will fit your budget.  Making plans larger is easy, reducing the house plan 100's of sq ft may change how the floor plan rooms flow compared to the original design.

1st Floor
| | | | |
| --- | --- | --- | --- |
| Enter in Square Feet which is Length X Width total area on 1st floor that is considered a finished area. Consider Condition space the area that is normally heated and cooled. | Living / Condition Square Feet | | |
| Enter in Square feet which is Length x Width of area that is not finished on 1st floor. Examples: Garage, storage, Outside living areas. Consider Unconditioned areas that are not heated or cooled. | Unconditioned Square Feet | | |
| Enter square feet which is width x length for covered porch areas on 1st floor. These areas often are open on three sides. Includes footer, porch slab, post, heta straps, soffit board ceiling, floor truss above, labor | Covered porch Square Feet | | |
| Enter in feet the total distance of all exterior walls on 1st floor including any exterior stair walls, house walls, garage wall, etc. Note: that the ceiling height below must be filled out to be correct. | Linear feet of exterior wall | | |
| Enter in Feet the height from floor to ceiling on 1st floor. For multiple heights just average together. Note: The number is used in the above exterior wall calculations. Includes CMU Block, Stucco | Ceiling height in Feet | | |
2nd Floor
| | | | |
| --- | --- | --- | --- |
| Enter in Square Feet which is Length X Width total area on 2nd floor that is considered a finished area. Consider Condition space the area that is normally heated and cooled. If no 2nd floor exist then leave this section with blanks or zero's. | Living / Condition Square Feet | | |
| Enter in Square feet which is Length x Width of area that is not finished on 2nd floor. Examples: Garage, storage, Outside living areas. Consider Unconditioned areas that are not heated or cooled. | Unconditioned Square Feet | | |
| Enter square feet which is width x length for covered porch areas on 2nd floor. These areas often are open on three sides. Includes Floor truss, plywood, waterproof membrane and finish, soffit board above. | Porch Square Feet | | |
| Enter in feet the total distance of all exterior walls on 2nd floor includes, truss ribbon bracing, flat straps, top / bottom plates, truss band zip wall sheathing, insulation and stucco | Linear feet of exterior wall | | |
| Enter in Feet the height from floor to ceiling on 2nd floor. For multiple heights just average together. Includes Exterior wall studs, Drywall, Insulation, Stucco, Zip Board, Labor | Ceiling height in Feet | | |
3rd Floor
| | | | |
| --- | --- | --- | --- |
| Enter in Square Feet which is Length X Width total area on 3rd floor that is considered a finished area. Consider Condition space the area that is normally heated and cooled. If no 3rd floor exist then leave this section with blanks or zero's. | Living / Condition Square Feet | | |
| Enter in Square feet which is Length x Width of area that is not finished on 3rd floor. Examples: Garage, storage, Outside living areas. Consider Unconditioned areas that are not heated or cooled. | Unconditioned Square Feet | | |
| Enter square feet which is width x length for covered porch areas on 2nd floor. These areas often are open on three sides. Includes Floor truss, plywood, waterproof membrane and finish, soffit board above. | Porch Square Feet | | |
| Enter in feet the total distance of all exterior walls on 2nd floor includes, truss ribbon bracing, flat straps, top / bottom plates, truss band zip wall sheathing, insulation and stucco | Linear feet of exterior wall | | |
| Enter in Feet the height from floor to ceiling on 2nd floor. For multiple heights just average together. Includes Exterior wall studs, Drywall, Insulation, Stucco, Zip Board, Labor | Ceiling height in Feet | | |
Exterior Windows & Doors
| | | | |
| --- | --- | --- | --- |
| Don't just count the openings, multiple windows fit together and you count each window. Included Impact rated windows, Mull bars, Screws, Header, metal straps, cripple studs, corner bead, Labor. | Total number of Windows | | |
| Includes, Impact rated door slab swing doors, paint, door knob, stop, header, door frame and all labor. | Total number of Swing Doors (Solid) | | |
| Covers, Impact rated glass swing doors, paint, door knob hardware, door frame and all labor. | Total number of Swing Doors (Glass) | | |
| Sidelight is the small narrow window that mounts to the side of a swing door. includes impact rated window, header and labor, paint. | Total number of Door Sidelights | | |
| These are the 8' tall glass sliding door panel. At each opening you will have 2 or more panels, count. Includes Impact rated panels, Labor, Hardware and Header. | Total number of Patio Slider Panels | | |
| Includes Wind rated aluminum door, with track, Garage door opener, concrete header above door, Outlet, 2x6 treated plates, L-bolts, trim seals on exterior and all labor. | Overhead Garage Door 16x7 | | |
| Includes Wind rated aluminum door, with track, Garage door opener, concrete header above door, Outlet, 2x6 treated plates, L-bolts, trim seals on exterior and all labor. | Overhead Garage Door 8x7 | | |
Cabinets & Plumbing
| | | | |
| --- | --- | --- | --- |
| Includes lower and upper cabinets, Granite Countertop, Handles, GFCI outlets, labor. | Kitchen Cabinets linear feet | | |
| Includes Vanity cabinets, Granite Countertop w/ splash, Handles, Mirror, Light fixture, GFCI outlets, labor. | Bathroom Cabinets linear feet | | |
| Includes Stainless Steel under mount sink, Plumbing rough-ins, Sink faucet. | Sinks- Kitchen / Bar / Utility | | |
| Includes China under mount sink, Plumbing Rough-in, Plumbing Fixture, one light fixture wired. | Sinks- Bathroom Only | | |
| Includes Plumbing rough-in, Toilet fixture, Exhaust fan, Switch, labor. | Toilets | | |
| Includes tile, plumbing rough-in, Shower pan, water proofing, plumbing fixtures, Shower Rod. | Showers | | |
| Includes tile, plumbing rough-in, tub, plumbing fixtures, Shower Rod, labor. | Tub / Shower Combo | | |
| Includes, jetted tub, faucets, up size water heater, 220 gfci power, tile splash, Labor. | Large Tub | | |
Roof / Railing / Other
| | | | |
| --- | --- | --- | --- |
| Includes concrete driveway 4" thick, grading, forms, Labor & Materials. | Driveway Square Feet | | |
| Includes aluminum post & Picket railings, labor, material. | Railing Linear Feet | | |
| Includes Trusses, Shingle, 1/2 Sheathing, 2x4, 2x6, Soffit, Insulation, Labor | Roof– Sloped Square Feet | | |
| Includes Trusses, TPO, 3/4 Sheathing, 2x4, 2x6, Soffit, Insulation, Labor | Roof—Flat Square Feet | | |
| Includes Trusses 16" O.C., Polyurethane coating, 3/4 Sheathing, 2x4, 2x6, Soffit, Insulation, Labor | Roof—Sundeck Square Feet | | |
| Extra Field, if used quantity equals $1 and details explained in Notes. | Other | | |
03/22/2023
https://gasthomes.com/
first plan
Additional Upgrades & Add-on Options
| | | | |
| --- | --- | --- | --- |
| Impact fees are charged by cities to help cover the load on the cities infrastructure when a house is added. Each cities fees are different, and if a past house was on the lot the fees are often highly reduced or even zero. | Impact Fees | | |
| Soil testing is often done before you buy your lot to confirm a possible foundation type that is allowed. Often you test two spots on lot about 25' to 35' deep, and is required by the building department. | Soil Testing by Engineer | | |
| Covers Demo Permit, cap sewer & water. Silt fence area, demo and remove house. | Demo Existing Home: -Under 2,000 Sq Ft | | |
| Covers Demo Permit, cap sewer & water. Silt fence area, demo and remove house. | Demo Existing Home: - Over 2,000 Sq Ft | | |
| Not always required (Soil Report to confirm) but based off your info added this is a fair range that includes pilings every 12' at footer, 35' deep, cut off and remove exposed with monitored, certified and vibration analyses | Foundation Pilings | | |
| Based off your info above this is the price extra to replace Laminate shingles with Aluminum .032 hidden screw standing seam metal roof. | Laminate Shingle to Metal Roof | | |
| Based on your info, Replace Post and Picket aluminum railing with Aluminum post and horizontal Stainless Steel Cable railing. | Reg. Railing upgraded to S.S. Cable | | |
| Based on your driveway data, replace 4" thick concrete with Pavers & 3" base material. | Driveway upgrade to Pavers | | |
| Optional elevator installed. Includes Elevator pit with footers, Extra support wood for rails, elevator cart, Special swing doors, 220 volt circuit, 110 volt outlet, light. | Elevator: - 2 stops (1st & 2nd Flr) | | |
| Optional elevator installed. Includes Elevator pit with footers, Extra support wood for rails, elevator cart, Special swing doors, 220 volt circuit, 110 volt outlet, light. | Elevator: - 3 stops (1,2 & 3rd Flr) | | |
| Based on your data, Credit stucco on CMU and replaced with 6" cement siding. | Stucco upgraded to cement siding: -1st floor | | |
| Based on your data, Credit stucco on wood and replaced with 6" cement siding. | Stucco upgraded to cement siding: -2nd Floor | | |
| Based on your data, Credit stucco on wood and replaced with 6" cement siding. | Stucco upgraded to cement siding: - 3rd Floor | | |
| All Gast Homes houses have CMU concrete block on first floor standard. | Exterior Walls CMU Concrete Block: -1st floor | | |
| Includes Credits for 2x6 wood wall, plywood, insulation, stucco. Added cost for CMU Block, Ledger @ 2nd flr, trusses, bolts , 1x2 furring, insulation, stucco. | Exterior Walls CMU Concrete Block: -2nd Floor | | |
| Includes Credits for 2x6 wood wall, plywood, insulation, stucco. Added cost for CMU Block, Ledger @ 3rd flr, trusses, bolts , 1x2 furring, insulation, stucco. | Exterior Walls CMU Concrete Block: - 3rd Floor | | |
| Replace CMU with ICF solid concrete core, rebar, double sided stucco, labor | Exterior Walls ICF Solid Concrete: -1st floor | | |
| Replace 2x6 wood wall, insulation, plywood with ICF solid concrete core, ledger, connectors, rebar, labor | Exterior Walls ICF Solid Concrete: -2nd Floor | | |
| Replace 2x6 wood wall, insulation, plywood with ICF solid concrete core, ledger, connectors, rebar, labor | Exterior Walls ICF Solid Concrete: - 3rd Floor | | |