Grand Island | Florida House Plan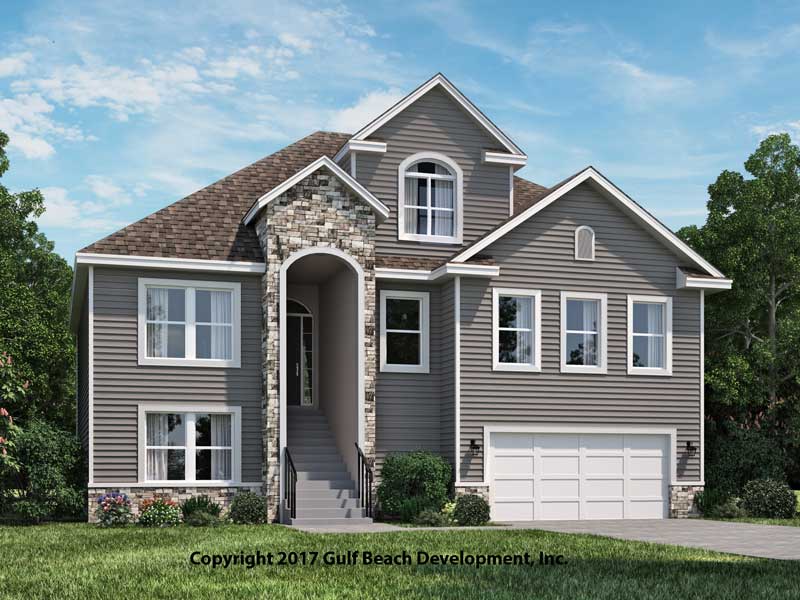 Grand Island
Coastal Collection
3 Bedroom - 3 Baths + Loft
Width . . . . . 50'-0"
Depth . . . . . 48'-0"
Total Build . . . 5,289 Sq Ft
Total Living . . . 2,624 Sq Ft
Click on images to enlarge
Coastal House Plan
Grand Island Coastal House Plan. Offering a very elegant exterior design combing hip and gable style roofs with options for all stucco or cement siding finishes is sure to please. Meeting many local flood zone requirements the first floor is complete garage area offering four car enclosed storage space plus much more. Creating a grand entrance with wide concrete stairs leading to the 2nd floor foyer can be seen from the exterior of the home. Inside this second floor level at nine feet high ceilings is the main living floor offering large open concept living with excellent glass opening views to the rear exterior of this coastal house plan. The Master suite with custom shower and large soaker tub is sure to please many and is also located on this 2nd level main living area. The third floor includes two bedrooms and loft area. The main floor area also includes a full bath room making it easy for guest to shower off after a day of boating or enjoying the swimming pool. This Coastal House Plan like so many of Gast Homes designs is hard to find a true elevated home with excellent rear viewing making it perfect for waterfront building lots. These plans where designed by the owners CAD software utilizing twenty plus years' experience and incorporating safety and energy use concerns. We are the only Florida home builder that holds a Department of Energy certification license of (BPI) Building Performance Institute Quality Control Inspector. If you're considering having a new construction home built contact a certified Gast Homes real estate agent in your area.
New Construction Features
Granite Countertops.
Solid Wood Cabinets.
9' high interior ceilings.
Impact rated exterior windows & doors.
Tile, with carpet bedrooms.
Closed Attic System options.
Advantech roof sheathing system.
Insulated concrete form (ICF) exterior wall options.
Florida Home Builder
State Certified General Contractor.
Thirty years experience.
Building Performance Institute, BPI Certified Inspection.
Blower Door, ASHRAE, Duct pan Quality control testing.
Site Development, Scattered site, Single Family, Condos and Townhomes.
Disclaimers: Copyright 2016 Gulf Beach Development, Inc. All rights reserved (Copyright Protected) CGC1521427  This home may reflect options not included in the base price. Pricing is subject to change based on jobiste locations.